Author: Igor Savelyev (SAVA) Foros – Dnepropetrovsk
Information from Vladimir Pestrikov, Dnepropetrovsk
Zamok
Deion of the route "Чапа (Chapa)"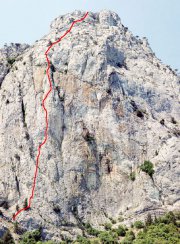 Picture. 1 Line of the route
"Чапа (Chapa)" on Zamok Peak

(" Чапа (Chapa)", capa – in Spanish means "bolt").
Go to the base of the couloir between the peaks Zamok and Mshatka. Ascend 20 meters by the couloir, on the right you can see a note ( ЧАПА (CHAPA) mах. 7 А +) made with blue paint. From the road to the route beginning there are 5 minutes. All belay points are marked blue. It's very comfortably to orientate, the route is well seen.
First three pitches go through the solid rocks, then it becomes worse, be careful and attentive. Most of moving stones are thrown down, many tlaces are cleaned from grass and soil.
"ЧАПА (CHAPA)" is free climbable, but many places can be passed with AID. It depends from the ascender's qualification. Different gear can be useful: relief sky-hooks, friends, pins, nuts.
Great request: not to make holes for sky-hooks, knock out pins and nuts.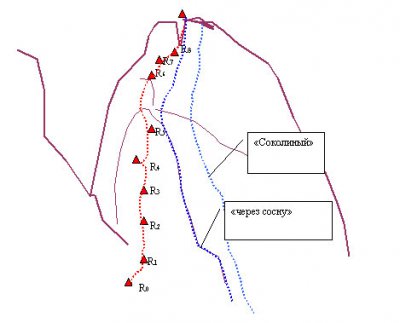 Picture. 2. "topo" of the route "Чапа (Chapa)"
on Zamok Peak (The left part of the
central wall by the bastion, to the
left from the route "Через сосну
(through the pine-tree)")
The route was being made top-down from March 14 to 16 2003. Then it was passed by free climbing.
R0-R1 – 3 А, 25 m, 1 nut
R1-R2 – 7 А, 35 m, 7 bolts, 1 pin
R2-R3 – 6 А, 30 m, 2 bolts, 2 loops on the tree
R3-R4 – 7 А +, 35 m, 7 bolts
R4-R5 – 6 В, 45 m, 7 bolts, 1 pin
R5-R6 – 5 В, 30 m, 2 bolts, 1 pin
R6–R9 Grade 2 –3, move upwards, with small divergence to the right, to the crack in the upper tower. Go upwards along the crack (there is a nut). These three pitches are considerably easy, but it is desirable to belay (there are trees).
Length of the route is 330 m. Grade can be dafined after several ascents (as well as the ascent time).