Author: Alexander Lavrinenko, Odessa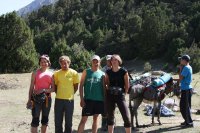 Caravan

There are many reasons for journey to Aksu, but in short we state like this: "there is good weather, solid granite rocks and big Asian melons". Those who haven't been there, believe, I also have believed when we depart.

Then it began: Odessa-Moscow-Osh-Uzgurush. In Osh we spent about 5 hours for all, even a car was in time.

There were 6 of us – 3 from Odessa: Taras Cushko, Sasha Homenko (first time in Asia) and I Marina Kopteva and Anya Yaksinskaya ( Kiev ), and Sanya Maksimenya ( Minsk ). We were in a hurry because the girls wanted in Aksu in 2 Troshishenko, and the vacation was 20 days, with our great plans. Maksimenya had a lot of time he hurried to keep our company.

We normally reached Uzgurush, without any delays. We were lost sometimes, and the driver woke me up and asked: "Brother, where to drive?" Every time the decision was made collectively, but rightly as a rule.

It was heat in Uzgurush, locals said it had not been raining for a month. We bargained for a caravan, and in the evening we were on a glade with view on Aksu.

But where to climb? Maksimenya wanted on Block peak, but firstly to walk and see the surroundings. The girls decided to ascend Aksu, while the weather was fine. For acclimatizing we chose 4600 route.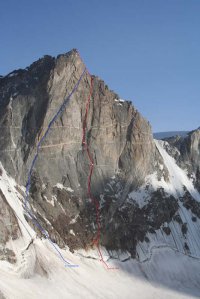 4600 route

There is only one route on 4600 wall – 5B Bashkirova. There are no routes along the center of the wall, and the relief is reach – we make FA, warm up and acclimatize.

During next 2 days we brought cargo, watched the route (its lower part was stony, higher it was better), met arrived from Odessa ascenders.

Time to ascend ! On the glacier we said goodbye to Marina and Anya. We decided long if we would take a platform, decided to take, it was a right decision.

Start! The weather ended suddenly, and for a long time.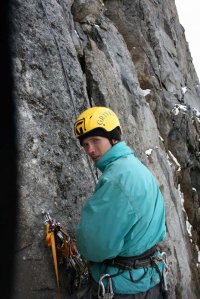 Homenko

Sanya Homenko leaded, passing a series of corners, filled with ice. Different stones were trapped in the ice. At once our best rope became 15 m shorter! In the evening the same fate overtook one more rope, for luck we had all 60 m ropes.

In the evening a snowstorm began, it was time to think about the night. There are 3 ledges on all the route, all of them inclined, covered with ice and stones. We lived in platform BD for 2 people, but it was enough space for 3.

We hoped that it would be good weather in the morning, clear rocks, may be even free climbing. It didn't happen. I was climbing all day long under the snow stream which sometimes began to melt. Climbing shoes and chalk weren't of use. But commonly we were lucky: in warm weather the corner would be rather dangerous, but I placed stoppers and camalots between suspicious, but well frozen stones. We passed about 90 m, for night stayed in a new place and watched a beautiful sunset. May be tomorrow it will be good weather? Connected Marina, she said they were on the ledge, night was comfortable. Lied, may be.
| | |
| --- | --- |
| Sunset | Camp 3 |
In the morning there were 2 news: bad one – the weather is bad, and good one – no need to go for water, there was a snowdrift between the wall and the platform.
There was a big cornice above us, we had to ascend through it, but there were cracks. Above the cornice it wasn't easier: unreliable patches, snow streams all the time. Snow didn't melt any more. For night we stayed under an overhanging cornice. It was little food, but the ridge was somewhere near.
| | |
| --- | --- |
| cornice | after the cornice |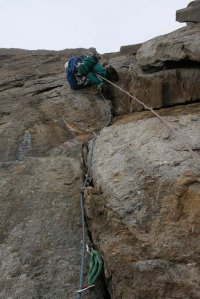 Taras is climbing

In the morning Taras climbed, and I tried to put through reverso a wire which yesterday was a rope Beal Flaer II, dry, etc.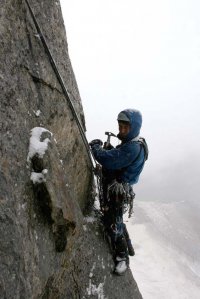 Lavrinenko

Difficult overhanging corners, sometimes climbing with snow digging. All this reminded me Trango tower, but with altitude 4500, instead of 6000. At last – ridge, thee Sun, easy solid rocks. Summit ! A storm began and we quickly descended to the place of last night.

We descended the same way, without any adventures. Then ran, as it was possible, to people and food. Watched Aksu – how Marina and Anya were there? Snow was there not only on the ledges, but also on the vertical slabs.

It was a warm meeting in the camp – Serenkov, Den Veretenin, Jack Bashkircev from Angarsk, Maksimenya (waiting for the weather, sly) and girls who descended alive, but little more thin.

Descended

Summary: 4600 along the center of the Northern wall (6а А3, ice 55 degrees) difference – 710 m, length – 850m, day of working and 3 nights.

Maksimenya ascended Block Peak, people from Angarsk - Aksu, our journey ended sadly: rescue operation, with A. Lavrinenko and V. Mogila in a role of victims, others – rescuers. Thank you everyone!

Sanya Homenko on the return said: "Deceived, no weather, no solid rocks, give me a melon at last!".

We are going to return next year, there are many plans.