Simone Moro Announces his New Winter Project: Makalu
Few hours ago I announced my next winter project and here you can find all detail about my next expedition.
It will be for sure a very difficult and extreme project, but it follow the "exploration philosophy" that is too often missing in the modern alpinism on the 8000.
I hope you will follow my next expedition as you did in the past and I will do all my best to return home safe and with a successful climb -)
I also want to send my best wishes and good luck to the polish guys that are attempting Broad Peak in winter. One part of my heart will be with them… I hope they will conclude the effort that I stopped last winter at 7840 mt on that mountain J
Greetings and wishes also to the other Czech winter expedition on Manaslu.
Ciao and thank you
Simone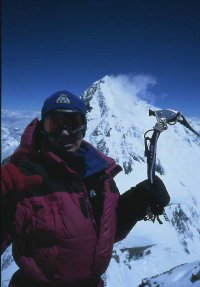 Denis in Vetta al Lhotse

Shedule
•  The departure date will be in the Christmas days and the potential duration of the expedition will be 3 months ( respecting the role of the winter season /21 st December – 21 st march)
•  First we will go in The Khumbu valley to trek and acclimatize and than we will go to Makalu Base Camp. I'm still thinking which route we will follow and this decision will be taken under the mountain in order to the condition of the face. I like the Kukuczka route but let's see how it is. Also the normal route is one of the oprion.
•  No Sherpa, No oxygen and very  limited use of eventual fix rope. So it will be a super light style expedition
•  21 st march will be the last potential day of our stay on the mountain
•  Will be sent daily video and photos dispatches on my web site www.simonemoro.com and we are still deciding if I will post also on   www.extremehd.net
•  Will be realized a FULL HD videos and Photos during all the climb
•  Official sponsor will be THE NORTH FACE
•  Nima Nuru Sherpa leader of Cho Oyu Trekking will be our local trekking agency and organizer
Makalu in Winter. History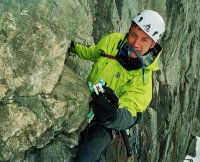 Denis urubko

Winter attempts to conquer the mountain were begun by Renato Casarotto and Mario Curnis in 1980 where they reached 7400 m. Than it came the turn of Reinhold Messner at the break of 1985/86 . He managed to get to the couloir leading to Makalu La pass. Hurricane winds made further action impossible. Events of the expedition were filmed and caused great emotion and controversy. A French Himalaist died. His body was pushed into a crack in the ice. The Poles applied to the Nepalese authorities for the permission to attack Makalu in winter in the season of 1987/88 . That was the first time. Andrzej Machnik was the head of the expedition. There were no helicopters then. The expedition employed four Nepalese carriers. Six Poles and two Americans walked with a caravan until the foot of Makalu. It took them two weeks. On 10 December 1987 the main base was set up at the southern slope. After that they set up three camps at the Chago glacier and at the entrance to the couloir which led to Makalu La pass. The history repeated itself. A change of weather and windstorms allowed them to reach the height of 7400 meters. Alpinists sheltered in caves in ice cut out with saws. On 28 January 1988 the Polish expedition surrendered.

Four people formed the next expedition led by Krzysztof Wielicki on 1998. Anna Czerwiсska, Ryszard Pawіowski and Ingrid Bayens from Belgium were with him. At the time Wielicki was among the best of Himalaists. His achievements included winter conquests of Mount Everest, Kanchenjunga and Lhotse, marking new routes from bases into the peaks of the Himalayan giants within 24 hours. He also got acquainted with the route of the first conquerors of Makalu leading through Makalu La.

"We aimed really high - said Wielicki - we thought that everything was possible, even a four-person winter attack of so vast and windy mountain. We chose the classic route through Makalu La, which appeared difficult due to its length. We got lost in a blizzard. In mid-January we had enough of it. This was however a great school of Himalaism. Every one of us stood at the top of the Everest".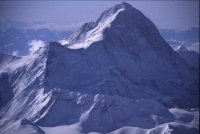 low dia makalu ovest 286

Than Wielicki attemped again in the 2000/2001 Winter. That Expedition to Makalu will be remembered as one more unsuccessful attempt to conquer a virgin, eight-thousand-meter high mountain in winter. There exist fourteen giants. Makalu remains one out of sixs which have not been conquered yet. The Winter Crown of the Himalayas still remains the greatest challenge of the highest mountains.

On or about January 27, 2006 , the French mountaineer Jean-Christophe Lafaille disappeared on Makalu while trying to make the first winter ascent. Makalu is one of the harder eight-thousanders, and is considered one of the most difficult mountains in the world to climb. The mountain is notorious for its steep pitches and knife-edged ridges that are completely open to the elements. The final ascent of the summit pyramid involves technical rock climbing. Makalu is the only Nepalese 8,000 m peak which has yet to be climbed in true winter conditions.

The 3 rd February 2008 Kazakh climbers Denis Urubko, Serguey Samoilov and Eugeny Shutov, have been struggling to complete the first Winter ascent of Makalu, but the high winds and harsh weather, have continually turned them back.

SIMONE MORO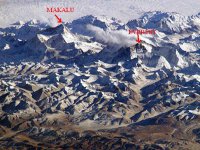 Makalu ed Everest dallo spazio

SIMONE'S PASSION FOR EXPLORATION has led him from his playground in the Italian Dolomites to the highest places on our earth. He is world renowned for his all round prowess as an alpinist - on rock, on ice, mixed and at altitude. His attempt of the Everest-Lhotse crossing ended in the successful rescue of a young climber and he has received numerous awards to commend his demonstration of the true climbing spirit. His achievements are legendary - the first winter ascent of Shishapangma (8027m), a traverse of Everest (8848m) … a total of 40 expeditions during the last 16 years. His drive, his boundless energy, his humility, his happiness and his love for life are inspiration to all of us.
SIMONE MORO
Date of Birth 27 October 1967
Occupation: Mountaneer and Rock climber, M.Guide Italy

Map 8000 with Makalu

MOUNTAINEERING, ACHIEVEMENTS
  2008 First ascent of Beka Brakai Chhok 6940 m (Pakistan) in pure alpine style and in 43 hours only go/back
Climbed Batokshi peak 6050 m ( Pakistan ) in Alpine style and in 9 hours only
2008 Attempt the first winter climb of Broad Peak 8047 m. Stooer at 7840 m
2007 Attempt the first winter climb of Broad Peak 8047 m. Stopped at 7100m
2006 20 th May Everest 8850. First solo south-north traverse. Summit at 3.15 a.m. and descent to base camp in 5 hours only
2005 14 th January Shisha Pangma south face. First ever winter climb to the summit 8027 m along the Yugoslavian route. Historical climb!!!!
Climbed Batokshi Peak 6050 m (Pakistan) in Alpine style
2004 Shisha Pangma south face in winter 8027 m First climb of the face and
Figueras- Permane route. Summit NON reached for 300 meters only.
4 th May new route on north face of Baruntse nord 7066 m
2003 The 9 th January receive from UNESCO the Pierre de Cubertin Trophy and the gold medal from Italian President Azeglio Ciampi (for rescue 2001).
Rock climbed routes of 5.13d / 5.14a in Spain and Italy.
24 th april climbed kilimanjaro 5895 – Tanzania
22 nd june apen a new route on Diamir face of Nanga Parbat . Summit not reached.
15 th July climbed Broad peak 8047 m in 29 hours.
25 th September climbed Elbrus 5642 m in 3hours and 40 minutes
2002 the 25 th Decembre Vinson 4897mt Antartica the 9 th May Cho Oyu 8201mt in 10,30 hours!
The 24 th May Everest 8850mt from north side. Descent in 4,40 minutes!
2001 April may Attempt to Everest-Lhotse traverse. Stopper the climb to rescue english climber serously injured. Winner for the David A. Sowles award from American Alpine Club
2001 February first winter climb of Marble wall 6400 mt in Thien Shan
2000 April-May climbed Everest 8850. Summit. 5 days without oxigen over 8000!
1999 July-August climbed Pik Lenin 7134, Pik Korjenevska 7105, Pik Kommunism 7495, Pik Khan Tengri 7010. It is the second time of all time someone do it!
•  October Everest 8848 north ridge, reached 8200 mt.- bad weather.
1997 December Annapurna 8091 south face. Avalanche accident at 6300 mt.
May 26, Lhotse 8516 meters. Summit.
January, climbed extreme ice falls of grade M8
1996 October 11, Shisha Pangma, 8008 meters, N.Summit
May, Dhaulagiri 8167mt, stopped at 7200 mt, bad weather.
February 1, Fitz Roy 3441, Speed ascent G/B 25 hours, W: Face
1995 April, Kancghenjunga 8596 meters, stopped 7600 mt, bad weather.
1994 October 11, Lhotse 8516 meters, Speed ascent from 6300mt, 17 hours
September, Shisha Pangma 8013 meters, stopped 7400mt, avalange.
climbed route in Italy of 5.13c (8b) difficult.
1993 August 13, Aconcagua 6962, Winter Speed ascent, 13 hours. Before tried the south face and stopped at 6200 mt, avalange.
Juli 25, Cerro Mirador 6089. Winter new Route and speed Ascent N.Face
October, Makalu 8463, Solo ascent stopped at 8300mt, Kukuczka route.
1992 October, Everest 8848, stopped at 7400 mt.
Become Coach of Italian rock climbing team.
1985 -1992 Professional climber in the Italian Rock climbing Federation. Between
1987 and 1989 climbed more than 30 route of 8a and 8b+ (5.13a / 5.14a).
1980 Began Mountainering in Alps.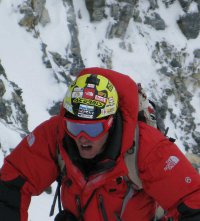 Simone con casco

PROFESSIONAL EMPLOYMENT
1997 Become UIAGM Mountain Guide.
1996 Professional Mountaineer and rock climber, Coach of Italian climbing team.
1995-97 Partecipate at the Mountain Guide Course and school in Italy.
1990-91 Graduate like lieutenant in Italian Mountain Army.
1985-92 Professional climber in Italian rock climbing federation.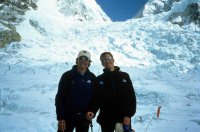 Simone e Denis
EDUCATION
Simone speak English, German, French and Spanish
2003 Become doctor of sport science (degree abaut "Extreme altitude Climbs")
1995-97 Mountain Guide course and school
1992 Rock climber Instructor
1988-92 Students in the High Sport University in Milano (I.S.E.F.)
1991 Become Instructor of swimming in Italian Swimm Federation
1987 Finished the school of book-keeper