The material was prepared by Anna Piunova, Mountain.RU
Interview with Julia Abramchuk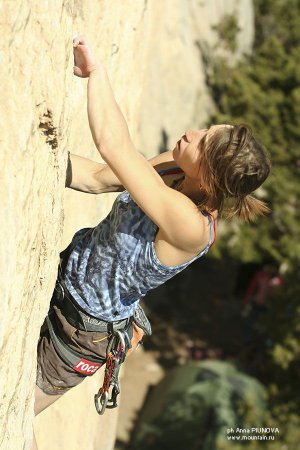 She is simply nice girl. Climbing somewhere
Zhuzha, 25 years old, is not married, 160 cm tall, scales 53 kg, higher education one
What else you have?
I have nothing L I have not house, car, boyfriend, I have no visa either, I have Red Fox, Alpine Equipment, Roca and La Sportiva, and I also have simply Gustav, Internet, Buriachok
Who is it?
I call my notebook so.
Not too much
Zhuzha on the route "Zhuzha, dont worry", 8b
About nothing
I like to leave my things all over the place, I dont like to be in a hurry and dont like to make haste either (this is not a pernicious habit, but it make nervous all men, except me), I eat much, like to sleep, dont like to speak, am afraid of quick ride, afraid of climbing with low belay, so I climb boulders (I have look aside for a while, and Julia at a moment print in addition: very kind and good :-) , it is true)
Childhood
It was standard: school, sport gymnastics, not much athletics, everything was finished with rock-climbing when I was 10 years old.
It seems to me that at the age of twelve I became candidate master (in speed), about fifteen master (in speed :-) ), fortunately, I confirmed it the same year in difficulty), at the age of fifteen I have become World-class athlete (in bouldering).
The first route of 7a grade of difficulty Mowgli, I passed when I was 14 years old. The first route of 7c grade of difficulty I have climbed up to the end at the age of 19, in return, in 2003 in Arco I passed the route of 8b grade of difficulty, Tropposchwar (first woman pass of the route of 8b grade of difficulty in USSR, later Julia was called so "the best girl in USSR"), in 2004 I have become the first women who passed route "Chertopolokh" ("Thistle") on the Red Stone.
Later every year I passed 2-3 routes 8a/a+, it is not too many, but without a route of 8 grade of difficulty it is very sad. Competitions dont give me opportunity to climb rocky routes.
I want to return the time when I climbed better than Mikhail Pekarev, it was excellent rise Now I have two months to get the form :-)
Competitions
Money, money:-) , Europe, wine, cheese, Italia, rocks, communication, hot European sun, lakes, Gardaland, sometimes not too often drive, when you climb final routes and something goes well, spectators are joyful and wonderful French DJ shouts: "Zhuzha, come on! Come on! Zhuzha!
Money
Means of eat, spend a half of the year in Europe, somewhere else, spend money without thinking about how much is left, dont work, be free, climb.
Rocks
 Thailand
Waking up at 6 oclock in the morning, thoughts about food, Misha Pekarev, who shouts: " Wash up your dishes!", thoughts about food, long three minutes long way along the beach to the rocks, there have been no people yet, two hours later first people on the rock, hot, thoughts about food, thoughts about home, about snow, about wonderful Russian frosts, routes of 8 grade of difficulty with long distance between holds, sand that is everywhere in the clothes, in the bag, in the rope, in slippers, in the bed, thoughts about home.
| | | |
| --- | --- | --- |
| Julias cry: "Oh, its terrifying!" | A little bit better :-) | Again terrifying! |
Seez
Luckily, I passed only two days there, but have enough time to feel charm of climb to the rocks, but unfortunately I have no time to taste lots of interesting routes, I hope to go there once more, to improve the health, to learn what " Berlin" means Anna says, it is exciting there, I now want to go there :-)
Massone
Wet subtropical climate of Arco it is very difficult to climb there! Languor, evenness, nothing is wanted, I thought I only feel it, but in fact it appeared that the climate is guilty :-)
Crowds of climbers from Germany, old popular routes like in Nikita, among which there is a couple of worth, including Tropposchwar :-)
And Redrocks! My first route of 8a grade of difficulty, lots of happiness, and lots of eaten up pizza :-)
And not so long ago explored region above Argenter, I dont remember how it is called, but it is possible to climb in summer. All the day long the massive is in the shadow, mountain river is not far away, strawberry, that is eaten by nobody, there are few Russians :-)
It is very interesting to climb there, perspective routes of 8 grade of difficulty, pleasant route of 6-7 grades of difficulty, and, a little bit lower, great bolder region.
Trainings
O, it is cool, at last training! Fixed-run taxi, metro, afoot, long way forward and back, corns, stripped skin on the knees, cold in the gym, fine mens backs in "maevnik", terrifying in DDS, nice tiredness at the end of working day.
One of the trainings Olga Bibik invented a bolder-route, looked at smiling Julia, understood everything and added "it is not allowed to use heels!":-)
Home
The place, where you feel good, where you want to return back, where you want stay, from where you sometimes dont want to go away. Home it is a dream. My dream :-)
Friends
Gustav, it is difficulty being with him, and without him, too :-)
Siava, who is always far-far away. Sometimes we meet with him. He is coming with his friends soon, will treat me for depression :-)
| | |
| --- | --- |
| Attn to Red Fox! :-) | Not worse than Bezha :-) |
Lenka, I also see here very rarely, she is always busy, but at the same time she is always helpful, you can see her and you mood rises up. She teaches me surf-riding. I will be able to do it instead or after rock-climbing.
She teaches me how to live, I teach her too. And so we live :-)
Karelina, I can almost always come to here and have meals :-), tell her about the life and she also can sometimes say something useful.
Mitiay, he always can meet me, bring somewhere, rise my mood, repair something is the house, because Gustav is always working :-)
Stankesha, my favorite wife :-)
I love them all a lot.
Sankt-Petersburg
Peter is good, but gradually. It is excellent to spend about two days, not more there in summer. To call on all the bars, to run along all the bridges at three oclock in the night, trying be in time for moving them apart. Everything is so slow (as you are :-) ), people in the metro push each other kindly.
And the most magnificent time is April-May, when it is warm and you can take off all 33 clothes and simply walk wearing only one sweater.
At 10 oclock you go to the Nevsky street, people have already been at work, wart cart us riding, sun is shining, you walk along the street, not being in a hurry with player in the ears, thinking about eternal, and in front of you Neva is, near the Dvortsovy bridge it is possible to sit and look in the water, for a long period of time.
My parents live in Peter, I have my own room, where it is very difficult to stay alone, there. Generally speaking, it is pleasant to spend time with parents. They always feed you make you go to bed, not depending on your desire :-). They love you simply because you are.
Moscow
Maskva. What can I say about it? Everybody knows everything about it. But it is possible to live there. But I like. It is not boring here. People are good, in general.
It is possible to walk here, too when summer comes :-)
I like the center of Moscow, if you come to an old Moscow yard, you can see two-storeyed houses, trees grow, it is very quite in such yards
Favorite places.
Arco
You come there and feel you at home. All the roads lead to Arco. It is a strange place, literally 5 years ago there were only five houses, but, I dont know why, traveling around Europe it is impossible to pass Arco by. You land in the Europe and go there. In fact, you have no your own house there, there are not so many acquaintances, but some friends I have there, you greet all the sellers, you are recognized, and like in Moscow, you all the time get different business, although it seems there can been got from nowhere.
Lots of rocky regions, lake Lago di Garda, sport shops, where you have to buy shoes for all you friends, a couple of things for you, that at first you look for, think about them for two months and then say to yourself "if I earn money on the competitions, I would buy it, and with clear conscience you go to competitions and struggle and struggle and think about the T-shirt that cost 20 euro :-):-):-)
Before departure for motherland it is also necessary to visit Arco, to buy T-shirts :-)
| | |
| --- | --- |
| A la Bigwall | Standard travel shot |
Voronezh
City like city. But due to my rock-climbing activity I often had to visit it and spend much time there, from youth age, at competitions or at sport gatherings. What is Voronezh liked for? You arrive there in April, when in Sankt Petersburg and in Moscow winter with icicles is still in force, and there the grass is green, lists come out on the trees, it is possible to leave your jacket in a room and forget about it for a week. Everything is cheep. Hotel " Orbit" o- o- o! There is no water after midnight, and in the afternoon there is no water either, but there is excellently! :-)
Crimea
Oh, Crimea!!! I always want to go there, in winter and in summer, in spring and in autumn My favorite season in the Crimea is spring. And summer.
In spring everything flowers there, it is possible to climb not getting up at 6 oclock in the morning. After winter all the life is new and wonderful and the Crimea is new and wonderful too. :-)
In summer it is hot there, sea, peaches, living in a tent below the Red Stone, meeting so many different people and the same Stone.
The most magnificent period in summer is when it become impossible to climb, after 11 oclock in the morning, all the climbers disappear somewhere under the shadows, go to sea, to the shop, to the baths
And it becomes very quiet under the Stone, and nothing should be done. You have not to hurry up, hasten, it is possible to sit and drink tea, or simply sit and enjoy, enjoy everything and nothing, looking at the sea and to Au-Dag, or not looking, simply know that somewhere downwards there is the sea and Au-Dag.
Zhuzha (herself!) is hanging quickdraws on the project of Juji Hiraiama, 9a
About nothing

I like Italian language, Italy (but there is nothing better than our Motherland). I like spaghetti, Italian with cheese :-)
I like traveling not for a while yetas because of sitting at one place such melancholy, sadness, sorrow comes, but fortunately, it is impossible for me to sit at one place for a long time, I always have to go somewhere!!!